New COMPOUND version out now!
---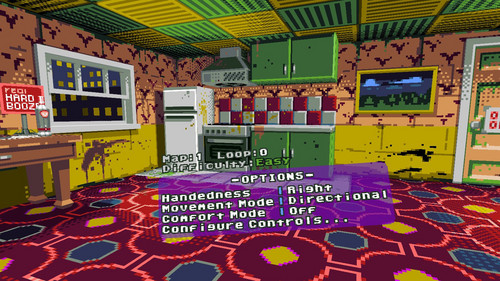 I've never used the devlog feature; I don't know what I'm doing!

NEW FEATURES
New starting area: the player's apartment. You can set your difficulty and get used to the controls here before jumping into danger. Eventually I would like it to become an area where you select your staring loadout, etc. and be much more interactive
Main menu with various options

Trackpad movement option available and made default

Legacy 'Hold & point' option still available

Comfort mode; disables locomotion and bumping into walls

Ability to change handedness

Settings saved across sessions

Rift-specific controls (I don't have a Rift so please tell me if they make sense. Sorry; no manual rotate feature implemented yet)
First round is a 'warmup' round with no robots and reduced enemies. Robots appear, map increases in size, and enemies increase in number after each win
Explosive barrels
Player has *very* short time of invincibility after recieving damage to avoid insta-death scenarios
HUD / map overhaul

Max magazines locked to 9 (for now)

New drop system; health will only drop if player is not at max health. Chance increases as health gets lower. Same with ammo
Grabbing reworked; mostobjects can no longer be pushed through walls
CHANGES
Robot behaviour changed; no longer have perfect x-ray after seeing player once, get briefly 'stunned' after taking damage
Tank tracks on secutiry robots are animated
Better damage feedback on robots
Limit on enemies per room to mitigate bad RNG
Easy by default
Drops last longer

Drops on easy never disappear

Smaller collision area for player's head
Pistol overheating nerfed on easy and medium difficulty
Various bullet speeds rebalanced
Player will be teleported back into level if they manage to get out due to tracking error, etc
Enemies pushed out of level will die to prevent never-ending levels
BUG FIXES
Fixed game breaking bug where the 'hard' bottle could not be smashed
SMG magazine no longer acts strangely when teleporting mid-reload
KNOWN MAJOR BUGS
Very occasionally the map will spawn without enemies, causing an instant win. Will add failsafe soonish.
Very occasionally, on the first time running the game after a new install, the default Rift control layout will be loaded instead of the Vive one for Vive users. Please contact me if you can reliably replicate this issue as I can't pin the cause down.
Files
COMPOUND V0.0.4.zip
33 MB
134 days ago